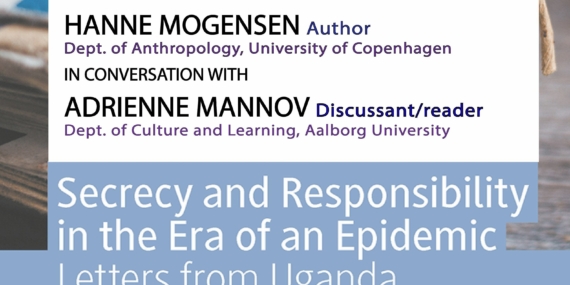 Friday 22nd January 2021 3-4.15 pm (Postponed from 18th December 2020)
Online Event
Zoom link: https://ucph-ku.zoom.us/j/63671481231?pwd=cHN3Slp3a1JCR3RLRG1BaGZJSll0dz09
Antropologforeningen welcomes you to the first Monographic Happy Hour of the year! Please follow the link above to access the event in zoom!
Programme
15-15.05 Welcome by Antropologforeningen
15.05-15.50 Presentation of the book "Secrecy and responsibility in the era of an epidemic: Letters from Uganda" by author Hanne Mogensen and reader/discussant Adrienne Mannov. Reading of paragraphs and a conversation between the author and a special reader.
15.50-16.15 Questions from audience and further conversation
Come joun us for this Holiday Special virtual format of our Monographic Happy Hour!